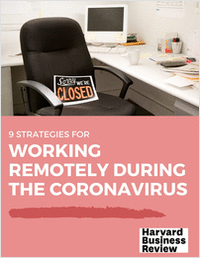 Working Remotely During the Coronavirus
Free book for a limited time!
Preparing for the possibility you may have to work from home.
Description:
At the start of a project, encourage each person to take a few minutes to show the team his or her home workspace and share some personal context. What are the possible distractions — like barking dogs, noisy passing trucks, or kids coming home from school? The aim is to help colleagues develop an understanding of each person's work context so they can be more sensitive to each other's constraints.