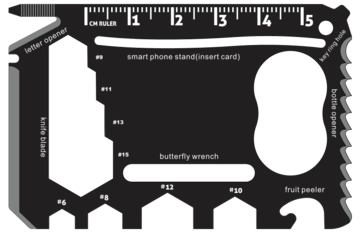 Multi-Tool or Card Knife
Please fill out the form below to receive a Free Sample. We will send you a generic sample. Limited to one sample per person for USA customers only.
Description:
This credit card sized multi tool has 12 practical features that can come in very handy. These multi tools are constructed from stainless steel so they are very tough and won't rust. There is a large printing area so you can display plenty of information about your company, like your company's logo, website, phone number etc.